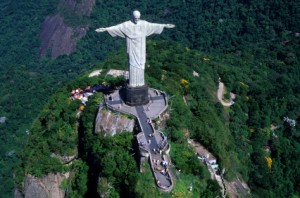 What is it you would change about your favourite religion given the chance to do so? What an interesting question this is to me. I was raised in the tradition of christianity and it took me nearly 3 decades to discover that it did not reflect my real beliefs and certainly was not a good guide for my moral compass or ethical choices. On the other hand there are many wonderful things about the christian tradition that have contributed to making the world a better place and so I asked myself what I would want to change. After all I am the agent for change in my life so I can create whatever I want. Here is what I have discovered.
I would strike down the "requirement of a saviour". I know it may appear like I am throwing out the baby with the bathwater but I wanted to explain why this foundational principle of christians worked when invented but does not today. At the time of early christianity life for the masses was not that great. People had few rights, governance was controlled by despots, checks and balances were almost nil and the world was full of imbalance. The concept of needing a saviour was compelling. In fact so compelling that it dominated three religions, jews, christians and muslims all wanted saviours and with good reason. The christians just built their magical, mystical man first and best (think of Apple computers today).
So if I all I want is to eliminate the saviour then why not just switch to Judaism? One reason. It is built upon the model of a saviour but they have not been able to agree on their magical, mystical man (the muslims knew better and adopted their first – there have been several depending on the sect you choose to follow – not long after the christians). There is already a magical, mystical presence in our lives today and it is our deep soulful connection to the universe. We are living examples of this universe. We are the result of biological processes formulated over billions of years and becoming sentient beings and that should be enough magic and mystique for anyone. The fact we keep learning more scientific fact to explain our world never takes away from the majesty or perfection of it all to me, in fact it supports it. Even with the supposed "God particle" soon to be proven or disproven it does not change my excitement for life at all. The fact we can become consciously aware of our origin is just more of the miraculous to me.
For me the fact there is life at all is the miracle. Whether it is viewed from the spiritual perspective or the scientific perspective I arrive at the same conclusion. Life is a miracle and I am part of it. So I do not need a saviour, I am created and therefore only require choice and celebration. The holy trinity to me is creation, choice and celebration. So today, this beautiful, glorious, wonderous day here in the universe of which I am a part, I will go out and celebrate life, my own, others, animals, plants knowing that we are here together on a journey of discovery and sharing this moment in time. I do it because this is the life I love to live and I intend to live it to the fullest. I hope you can do the same.