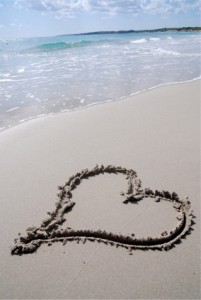 Love is the glue that truly binds the universe together but it is not always a given in our relationships, it must always be treated as a gift. Have you said thank you to your husband or wife lately? Have you told him or her how important they are in your life? There are two sides to every love story and in order to sustain love we must sometimes read from the others book.
Love can sometimes be a four letter word.  By this I mean that sometimes love appears to have a "down" side. Do not be persuaded. The down side to our love is only to show us how uplifting it can be to succeed in love. Choosing a life partner can be easy or difficult but maintaining it will always be a challenge and that is in fact its reward. Did you know that in arranged marriages there is the same success rate as romanced. It is not the beginning that matters it is the sustaining and for this reason and to renew my own commitment to my husband I publish Brad's 5 C's for building a good relationship.
The 5 C's are: commitment, communication, conflict resolution, collaboration and celebration. I want to start with Celebration. Celebration is not about throwing a party. Celebration in our  intimate relationship is about understanding and celebrating the very nature of our partner. I always say that people are like vases. We are finished and complete. You cannot change any aspect of a vase. You can cover it up or turn it away so as not to see it but it is permanently attached. The same is true for us. We are finished. That does not mean we cannot change from within. Even vases can be repaired. Their primary purpose is to hold water. Our primary purpose is to hold love.
The commitment part of the relationship may start with the engagement but the true test of it is remaining engaged throughout the relationship. I remain engaged when I am respectful of Pedro even when I am bored or angry or experiencing low self-esteem. My commitment is to remain a good husband. My commitment is to build a loving relationship through all of life's events. My commitment is to remain kind and considerate. My commitment is to ask and to listen. My commitment is to be fully engaged throughout my relationship  and within my relationship.
To solve a conflict is like learning a new piece of music. The world is a better place for each conflict we solve. The number of conflicts do not matter. The number of solutions is what sustains and elevates us. Intimacy is built not with our bodies but with our minds. The reason we can grow in relationships is because we more deeply understand one another and thereby ourselves. Conflict must be treated as the invitation for a solution not a recipe for dissolution. Conflict offers us a place to be a better person, to listen to the other and to ask for what we want.
And the resolution to conflict will come in the form of collaboration. Collaboration is where the rubber meets the road. It is where we demonstrate we are a couple by acting as one. It is where we commune (meaning communicating intimately) with the basis of what brought us together. It is where we both touch the love we have for each other and are willing to set aside what is different to concentrate on our conjoined goals. It is where our relationships are demonstrated. Without collaboration, there is no relationship, there is only two people living in the same vicinity.
And finally that brings me to communication. There are three ways in which we communicate I believe. We communicate with our head when we talk, our heart when we sing and our souls when we are silent. Let's start with the silence. You know the difference between the loving silence of adoration and cold silence of remaining distant. Do not pretend otherwise.  Silence is not a weapon. Do not use it so. Remember that your anger in silence is because you do not know or cannot speak what you want or need. Do not try to give it away. It is yours. Keep it and solve it. Ask for help from someone who loves you. It is easy to talk but that does not mean we are communicating. Know first. Ask second. Listen and then respond. Finally, choose a song that resonates and then sing it. Listen to your voice and words. Feel your feelings. They are telling you a story from within to without. Become aware. You cannot share yourself if you do not know yourself. To know yourself is to be true to yourself.
I hope that my sharing today has inspired you. You are the epitome of success. You deserve the love. You have the love. You have been given the talent and the  tools to succeed in love. You were built for this. And so it is.