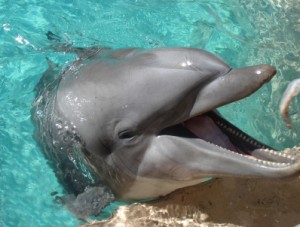 And so are you! Everything I see within myself is much easier to see in others. I am special but I am not unique and that is a good thing.
When I look at the photo of the dolphin it is obvious that he or she was designed perfectly and that is the same lens through which I view myself and others. The design is perfect. The manufacturing complete. The only thing left is the marketing.
So the question becomes: how am I marketing myself today? Oh, and here is the real kicker. You only have one consumer. The only person who has to buy the message is ourselves. We are creating a value proposition for an audience of one but the good news is we have years to perfect our message if we do not yet have it clear.
Now I realize that value propositions are not always easy to create. I realize that you must know the benefits, features, aspects and options well before you can summarize them into a simple value statement. But I guarantee you that it is well worth the time.
My value statement is "I am kind, fun and intelligent". That sums up who I am trying to be in life. Now I do other things but everything I do I try to make sure is keeping me "on message". Each day I try to be kind. If I notice I am not being kind then I can more easily return to it because it is a "core value proposition". I like to have fun and create fun in others lives as well. And I love to celebrate my brain by using it and learning new things all the time.
Is it important to understand our value proposition? Maybe so and maybe not, I will let you decide for yourself but I can tell you that it  helps me to more deeply understand myself and enjoy my life. Can I change my value proposition. Absolutely. Life is about discovering and expressing. If you discover it anew then express it.
If you are not confident about your "value proposition" then I suggest you enjoy some time to discover it. It is interesting to unravel our core beliefs and in addition it makes living the life you love that much easier and richer.